LUXURIOUS HAND MADE GEL PRESS ON NAILS
GET 20% OFF YOUR COSMETICS PURCHASE
USE CODE CYBERARC20 AT CHECKOUT
"I TRIED TO LOOK FOR ANOTHER FOUNDATION STICK LIKE THIS ONE AND I COULDN'T FIND ANY DUPE FOR IT!"
I always go back to my ARC foundation stick!
-Felicia U.
"This foundation totally changed my life"
WING 4 U EYELINER STAMP KIT...BETTER THAN THE REST!
Our special WING 4 U eyeliner stamp kit has an extra fine v-shaped stamp (unlike others)  that gives you a choice to make a natural smaller wing, (when stamped closer to the eye)  or a more dramatic larger wing, (when stamped a little further)
SHOP NOW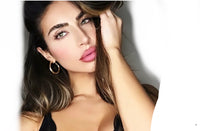 KISSABLE MATTE LIQUID LIPS
MOST MATTE LIQUID LIPS ARE DRY AND MAKE YOUR LIPS STICK TOGETHER!
NOT OURS! OUR SPECIAL WEIGHTLESS KISSABLE MATTE LIPS FEELS LIKE YOU'RE WEARING NOTHING ON YOUR LIPS! AND LASTS ALL DAY EVEN AFTER EATING!
THIS SPECIAL FORMULA IS ONLY AVAILABLE FROM ARC!
SHOP NOW
GET FREE SAMPLES OF OUR FOUNDATION!
Not sure of which color foundation that would suit your skin tone? Ask us for free samples of our foundation when you purchase your items!
FIND OUT ABOUT OUR NEW PRODUCTS AND PROMOTIONS FIRST!